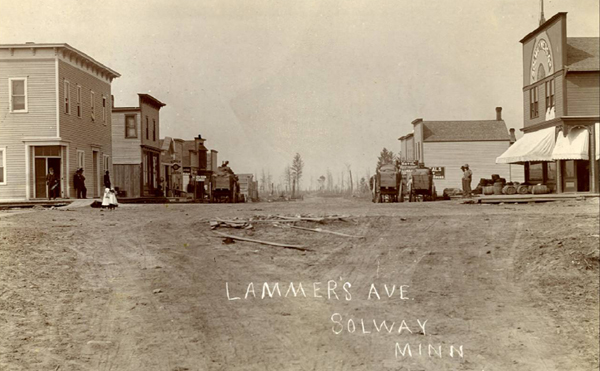 Lammers Avenue, Solway, Minnesota, USA, 1901 or 1902.




"In 1898, my grandparents and nine other families began filing homestead claims in eastern Lammers Township. The claims were filed in the Federal Land Office in Crookston, Minnesota. An eleventh family in this group of Swedish settlers obtained their land by purchase. Before homesteading in Lammers township, the eleven families were neighbours in rural Bear Parks, Norman County, located southeast of the village Fertile, Minnesota."




With these words Roy A Johnson begins his story about the eleven Swedish families who claimed land in Lammers township in the northern part of Minnesota in the end of the 19th century, not far from the Canadian border.

One of the families was Gustaf Johnson (1869–1958) and his wife Emma (Larsson) Johnson (1869-1945), Roy's grandfather and grandmother. Both came from Nedre Ulleruds parish in Värmland, Sweden. They had married in Nedre Ullerud in 1892 and there was their first child Helga Elisabeth (1892-1957) born. In April 11 1893 they emigrated from Sweden to New York
in USA.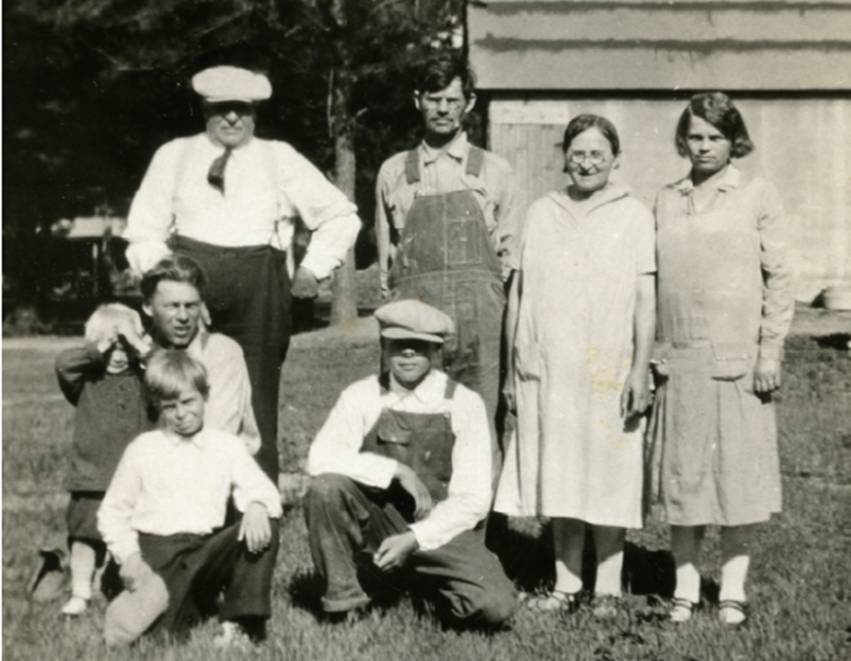 Sitting from the left: Unknown, Stone
Johnson, Andrew Carlson, Clarence Carlson.
Standing: Andrew Carlson, Gustaf Johnson,
Emma Johnson, Helga (Johnson) Carlson.
Emma was the granddaughter of Gustaf Olsson and his wife Maria Nyström from Nedre Ulleruds parish in Värmland, Sweden.
In the booklet there is much more to read about Gustaf and Emma Johnson and the other Swedish families that claimed land in the northern part of Minnesota in the end of the 19th century.

The_Swede_Settlement_of_Lammers_Township.pdf (24 Mb)

Roy A Johnson has also written a book about Emma's parents, Lisa and Lars Larsson, and their family, see "Lisa and Lars Larsson – A Record of Three Generations, 1827 - 1990".

THE LOCATIONS IN GOOGLE EARTH
If you have Google Earth intalled on you computer you can see where the places written about are located. Open the following files.

Bear Park Township, Minnesota.kmz


Fertile, Minnesota.kmz


Lammers Township, Minnesota.kmz


Nedre Ullerud, Sweden.kmz


Saint Paul, Minnesota.kmz


Solway, Minnesota.kmz
If you do not have Google Earth on your computer you can download it for free here.

FAMILY AND CONTACT
Below you can see how we are related and here is the email address to Roy Allen Johnson, rajohns4@pacbell.net.
HÅKAN'S ANCESTORS
ROY'S ANCESTORS
Gustaf Olsson & Maria Nyström
Married in Nedre Ullerud 1826
Johan Gustafsson
* 1835 N Ullerud
† 1869 Grava
Lisa Gustafsdotter
* 1830 N Ullerud
† 1904 Minnesota, USA
Ludvig Johansson
* 1865 Grava
† 1926 Alster
Emma Larsdotter
* 1869 N Ullerud
† 1945 Minnesota, USA
Gunnar Modahl
* 1898 Hosjö
† 1933 Alster
Gustaf "Gust" Johnson
* 1906 Minnesota, USA
† 1986 Minnesota, USA
Brita Modahl
* 1925 Alster
Roy A Johnson
* 1937 Minnesota, USA
Håkan Bergström
* 1955 Stockholm