Anders Fredrik Magnusson

Two years after the wedding between the farmhand Magnus Andersson and the maid Ingeborg Nilsdotter, on May 7 1821, their first child, the son Anders Fredrik, was born. At this time Magnus and Ingeborg were living at the farm Bjurerud in Alsters parish, Värmlands county.
Anders Fredrik was baptised the very same day he was born. At the baptism the following wittnesses were present: "Nils Nilsson from Bjurerud and the wife Ingeborg Nilsdotter from Bjurerud".
Anders Fredrik grove up on the farm Bjurerud along with his parents and brothers and sisters. His first brother, named Nils, was born when Anders Fredrik was 2,5 years old, in 1823. He had two more brohters and two sisters. His next brother, Johannes, born in 1825 and died only 1,5 years old. His first sister, Carolina, was born in 1828. Carolina died only one months old. In 1831 his second brother was born, also named Johannes. He died at an age of four in 1835. Anders Fredriks youngest sister was born when he was 13, in 1834, and was named Stina Cajsa.
In one of the other two houses in Bjurerud lived his uncle, on his mothers side, Petter Nilsson and his family and also Anders Fredriks grandfather Nils Nilsson.
In 1826 it is noted in the churchbooks that Anders Fredrik was vaccinated against smallpox.
Anders Fredrik grov up with his parents who were farmers at the farm Bjurerud. I guess he early was educated in farming. He never left the farm Bjurerud, as many other children did, to serve as farmhands on other farms.
At an age of 24, in the fall of 1840, he married the farmers daughter Christina Pettersdotter, from the farm Ås in the same parish.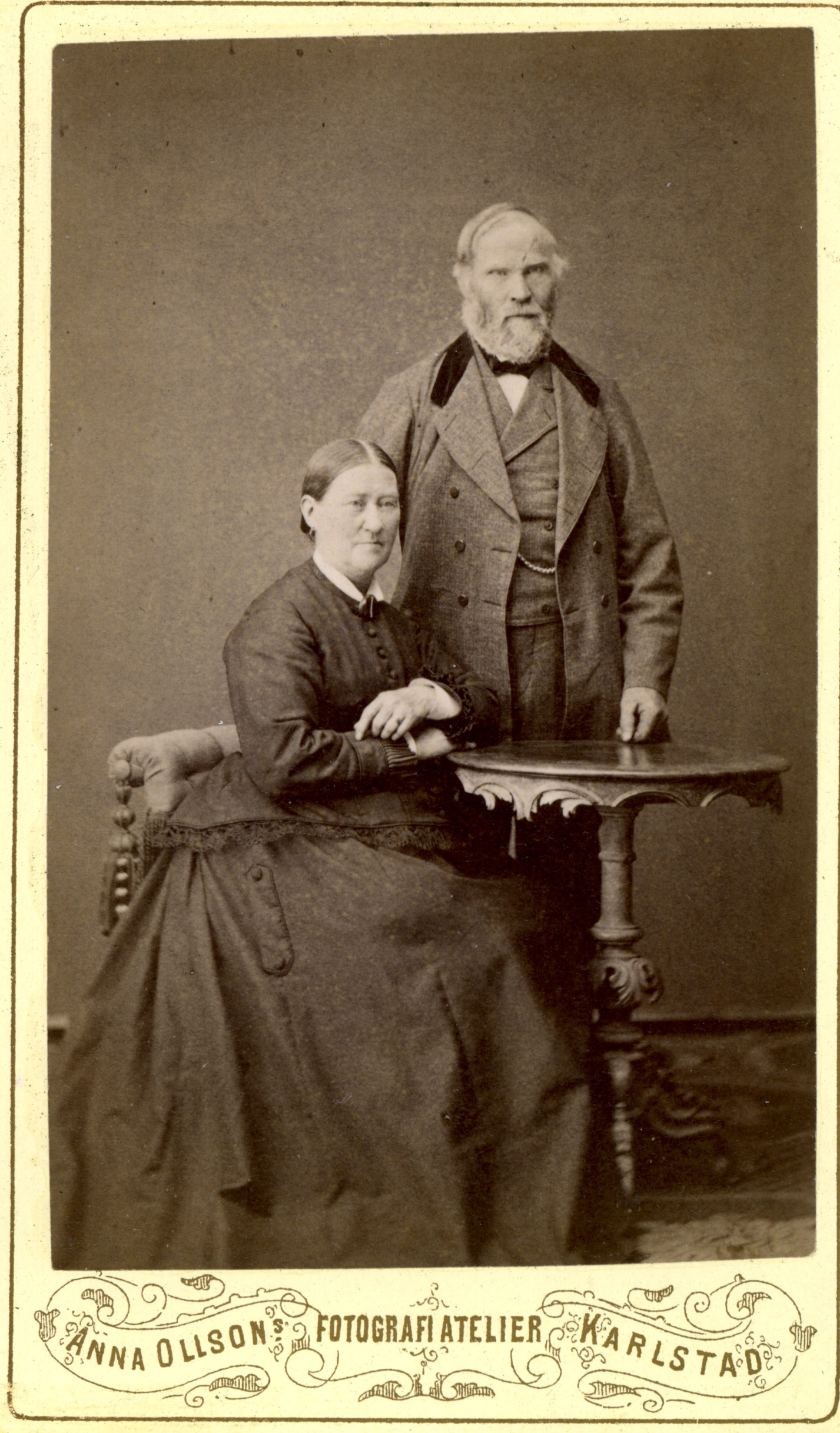 Christna and
Anders Fredrik

During the fall of 1845 they had the banns of marriage published three times in Alsters church. It was published on the following Sundays, September 7, 14 and 21. The wedding were held in Alsters church on October 10 by Ardennergren. This year Anders was 24 years old and Christina 20. They were the 11th couple that were married in Alsters parish this year. After the wedding Christina moved to Anders Fredrik at Bjurerud, where Anders Fredriks father, Magnus Andersson, was the farmer.

On the 20 of March the following year, 1846, their first child was born, named Nils Gustaf. He only lived a short time and died on June 2 the same year

Four of their eight children were born at Bjurerud. Two years after the birth of Nils Gustaf, their second child was born, their daughter Johanna Mathilda, on March 2 1848. Five years later their third child was born, Beda Lovisa, on November 21 1853.

Four years later, the year 1857, was a very hard year for the family. On May 12 their second son was born, named Magnus Alfred. He only lived four months and died in fever on October 5. Three days later also the nine years old daughter Johanna Mathilda died. They were buried on the same time, on October 8.

For some years Anders Fredrik had been building on their new home at Hösserudkullen. The house was ready under the year 1859. Exactly when the family moved to Hösserudkullen is not known. On December 3 their next child was born, their daughter Anna Cajsa. At the time of her birth the family were living at Hösserudkullen.

The same year Anders Fredrik was one of the founders of Alsters Missionary Society. Anders Fredrik became their first president. His brother Nils Magnusson from Bjurerud was their first vice president.

The farm Hösserudkullen was still owned by his parents but in an established succession on April 13 1865 he became the owner of the farm.

We know from the churchbooks from 1866 that the farm was "1/4 mantal kronoskatte" big. This means that the farm payed taxes to the royal family. The farm had the same area from 1866 to 1895. After 1895 they stoped writing about this in the churchbooks.

Christina had three more children. The daughter Christina, born August 10 1861. She died only eight monts old, on April 25 1862. The son Carl Magnus born on October 26 1863. Carl Magnus later took over the farm from his father.

Christina had their last child at an age of 41. Their daughter Maria Elisabeth, who was born on February 10 1867. Maria Elisabeth lived for three years and died from fever on December 24 1870.

In the year 1871 the family were five persons big. Christina and Anders Fredrik and the three children Beda Lovisa, 18 years old, Anna Cajsa, 12 years old and Carl Magnus, 8 years old. From notes in the churchbooks we know that they all were vaccinated for smallpox.

To be able to handle the big farm Hösserudkullen they had to have help from farmhands and maids. A large number of farmhands and maids served at Hösserudkullen throught the years. In the beginning of 1871 one maid and two farmhands were working at the farm. During the following five years a total number of ten different farmhands and four different maids had been workning for Christina and Anders Fredrik.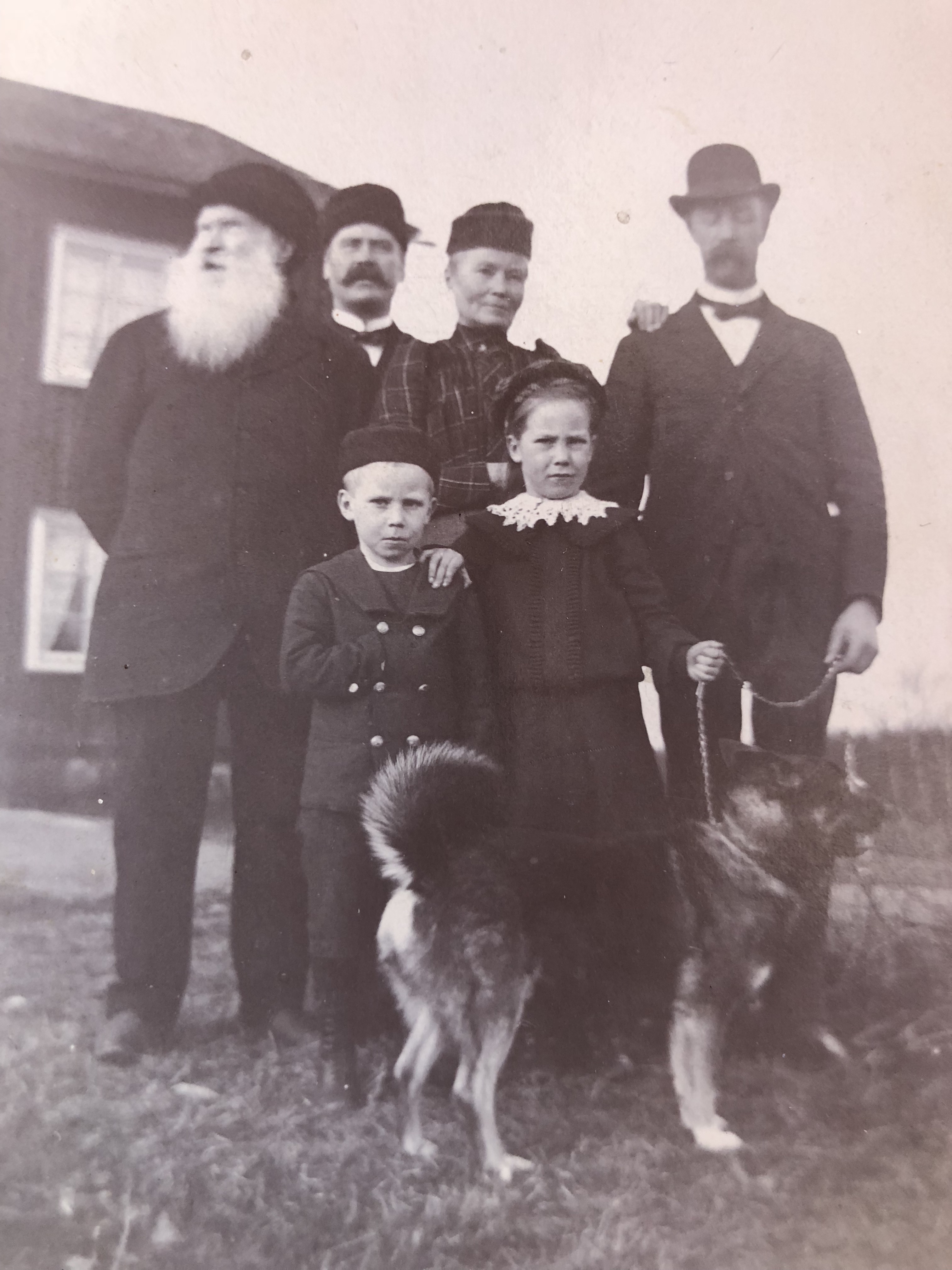 At Hösserudkullen in 1903.
Anders Fredrik, his son Carl,
his daughter Lovisa and her
husband Ludvig Johansson, his
grandchildren Gunnar and Olga.
Click to enlarge.
In the year 1875 the oldest daughter Beda Lovisa, now 22 years old, left the family to serv as a maid on the farm Svednäs in Alsters parish. She stayed at Svednäs until November 18 the following year, 1876, when she moved back to her parents at Hösserudkullen. Two years later, on October 10 1878, their daughter Anna Cajsa moved to Hammarö, an island just outside the city of Karlstad. Also Anna Cajsa returned home after one year, on november 13 1879.
Three years later Anna Cajsa left home for good. On September 15 1882 the banns of marriage was published in Alsters church for her and the farmer Gustaf Ericsson from the farm Måserud in Nedre Ulleruds parish. They were married on November 10 and one week later, on November 17, she moved to her husband at Måserud.
During 1884 their son Carl Magnus did his military service, as privat number 218. Where this was done is not known. A second meeting was held during 1885.
In September 1888 Christina celebrated her 63rd birthday. Later that fall she got sick and she died on November 18. She had been married to Anders Fredrik for 43 years and lived with him at Hösserudkullen for 29 years. She was buried in Alsters church by K Rolander.
The following year, on November 23 1889, the daughter Beda Lovisa left home for the second time. This time to serve in the city of Karlskrona in the south of Sweden. She returned home on November 24 the following year, 1890.
During 1892 Ludvig Johansson was hired as a farmhand at Hösserudkullen. Ludvig who was born in Grava parish, Värmlands county, came from the farm Rotnäs in Alsters parish were he had worked as a worker. We can guess that the following year Beda Lovisa and Ludwig came to like eachother a lot. In the fall of 1893 Ludvig moved back to Grava parish. When he in April 1894 got a job as a forrestworker just outside the city of Sandviken, Gävleborgs county, both he and Beda Lovisa moved there.
Still living on the farm was Anders Fredrik, now 72 years old, and the son Carl Magnus, 30 years old. On the farm worked also one farmhand and two maids. To handle the household as Beda Lovisa moved, the widdow and housekeeper Anna Andersdotter was hired. She stayed for one year and was then, in 1895, replaced by the housekeeper Karolina Eriksdotter.
| | | | |
| --- | --- | --- | --- |
| Ca 1903. | Click to enlarge. | | Click to enlarge. |
On February 13 1904 Anders Fredrik died at an age of 83. He had at that time owned and farmed Hösserudkullen for 45 years. He overlived his wife for 16 years. The farm was now taken over by the son Carl Magnus who stil was unmarried. Later the same year, on December 2 1904, he married Maria Nilsson, who was born in Fryksände parish, Värmlands county.
---

Descendants to Anders Fredrik Magnusson and Christina Pettersdotter.

Back to the Family Tree


Copyright © Håkan Bergström, Latest update 2007-01-01