Johan Gustafsson

Johan was born on September 5, 1835, on the farm Nordsjö in Nedre Ulleruds parish, Värmlands county. He was the fifth child of the worker Gustaf Olsson and his wife Maria Nyström. He was baptized the following day, September 6, and was given the name Johannes.
In 1836, the family moved to the farm Nolby in the same parish where his father was employed as a worker. The family stayed there for some years, at least to 1840, when they moved on to the farm Sjöbråten in Nedre Ulleruds parish.
On that farm his father also worked with farming. In the church books for 1846 it is noted that his father worked as an agricultural labourer receiving allowance (payment) in kind. They stayed on the farm Sjöbråten until 1851.
In 1851, they moved to the farm Mosserud from where his mother had come in the same parish. There they lived as dependent (free) lodgers. At that time the family was numbered five persons: Johan (age 16), his father and mother, his brother Emil, (age 5) and a foster brother August Larsson, 3 years old.
The following year, 1852, his father died. Johan remained with his mother and brothers in Mosserud until 1855 when he moved to Alsters parish. According to the church books in Nedre Ullerud, he moved out from Nedre Ulleruds parish on October 7, 1855. At that time he was still called Johannes. Where in Alsters parish he served as a farmhand is not yet known.
In 1856, he moved back with his mother in Mosserud in Nedre Ulleruds parish.
Four years later, on March 22, 1860, he was married in Alsters parish to Maja Cajsa Andersdotter from the farm Gräsåsfallet in Alsters parish. [Map] The wedding ceremony was held by A. Wennergren. They had published their banns on January 27 the same year.
At the time of their marriage his wife was already pregnant with their first child. Their son Anders Gustaf was born six weeks after the wedding, on May 5, 1860. At the time of his birth Maja Cajsa still lived on her parents farm Gräsåsfallet in Alsters parish.
Later that year, on October 29 1860, she and her son moved to Johan in Mosserud. In that year Johan lived in Mosserud with his mother, his brother Emil and his foster brother August Larsson. Johan and Maja Cajsa stayed in Mosserud until 1862. In that year they moved to Grava parish, Värmlands county.
In Grava he became a tenant farmer of a croft, Fallbråten, on Södra Skiveds properties, later called Skivfallet. [Map] They moved to Fallbråten on July 22 1862.
After the year they moved to Grava parish his name is written as John in church books.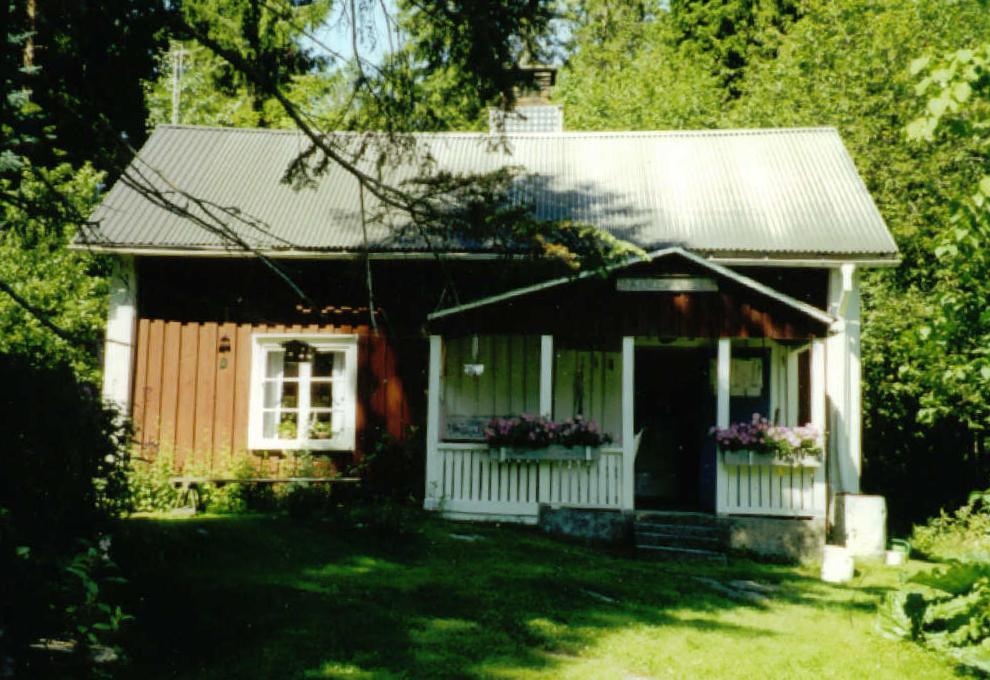 The croft Skivfallet.
In the folowing years Johan and Maja Cajsa had three more children, Wilhelmina, October 23, 1862, Ludvig, January 12, 1865 and Hilma, November 5, 1867. Hilma died on August 8, 1868.
Johan lived in Fallbråten in Grava parish for the rest of his short life. He died on March 31, 1869 in Alsters parish, only 34 years and 26 days old.
---

Descendants to Johan Gustafsson och Maja Cajsa Andersdotter.

Back to the Family Tree


Copyright © Håkan Bergström, Latest update 2007-10-14