Lovisa Andersson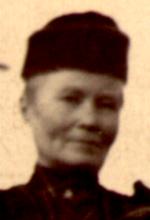 Lovisa år 1904

Lovisa was born on November 21 1853 at the farm Bjurerud in Alsters parish, Varmlands county. She was the third child of the farmer Anders Fredrik Magnusson and his wife Christina. She was baptised on November 27 and given the names Beda Lovisa. At the baptism the following witnesses were present "Hindrik Magnusson and Caisa Larsdotter from Siöstad".
Her first six years in life she lived with her parents in Bjurerud. In Bjurerud were also her grandfather, the farmer Magnus Andersson and his wife Ingeborg, living. In 1859 her family moved to the newbuilt house in one of the farms in Hosserud, <!A HREF=slakt_se_gard.html>Hosserudkullen, that her father had been the owner of for some years.
In 1875 she left Hosserudkullen to serve as a maid at the farm Svednas in the same parish. Svednas was at this time owned by Capain Paul Didirk Axel Uggla. On November 18 the following year, 1876, she returned home to Hosserudkullen.
After beeing home for a short period she moved to the city of Kristinehamn to go to school. In Kristinehamn she stayed what we know the years 1879 - 1881, maybe even longer. There she lived in different appartments that she had rented. Her sister Anna and brother Carl also had the possibillity to go to school in Kristinehamn.
In 1888 she had an emloyment in the city of Karlskrona in Blekinge county. Two years later, on November 24 1890, she returned home.
As the farm Hosserudkullen was one of the bigger farms in the area they had a lot of farmhands employed. In 1892 a new farmhand was hired, Ludvig Johansson, who moved from Rotnas in the same parish. He was 12 years younger than Lovisa and was the man she was going to marry in a near future.
The following year, on October 24 1893, she once again left home. This time she moved to the city of Gavle in Gavleborgs county. On the very same day also Ludvig left Hosserudkullen to move back to Grava parish. He continued shortly to Hosjo parish in Kopparbergs county to work as a woodsman.
On April 15 1894 she married Ludvig in Gavle. Lovisa was 41 years old and Ludvig 29. After the wedding she moved to her husband in Hosjo.
Two years after they married, on April 3 1896, their first child was born, a daughter named Olga Mariana. Two years later, on January 2 1898, their second child was born, the son Gunnar Ludvig. Olga died only 31 years old on March 19 1927.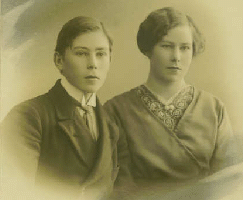 The children Gunnar och Olga
The following year, 1899, the family moved back to the county of Varmland again. Her husband Ludvig had bought a farm in Alsters parish named Masserudstorp, later only called Mosstorp. In Mosstorp Lovisa lived for the rest of her life.
Lovisa died from chestache, 65 years old, on November 6 1919. According to information in the churchbooks she spent her last days in the hospital in Karlstad preparing for an operation.
---
Chrildren:
Olga Mariana, * April 3 1896, Hosjö. † March 19 1927, Alster.
Gunnar Ludvig, * January 2 1898, Hosjö.
---

Back to the Family Tree


Copyright © Håkan Bergström, Latest update 2003-06-29